AdsLeading is an affiliate platform that provides you with publishing tools and offers to help you monetize traffic generated by you, or with the help of our tools. We are a group of highly skilled people who discovered, a few years ago, the mobile business. In the last years, the team members have been an active part of the industry.
From advertisers to publishers and mediabuyers in different categories. They are not only specialists in online marketing but also active programmers and technological developers among other skills. It is the combination of these different fields in each individual person that makes the difference at the end of the day.
In this article we are going to show you how to take the first steps in Adsleading so that you can start in the right way and you can make the most of the services we offer to you on our platform.
1. Create your account in AdsLeading
The first step is to create an account in AdsLeading. For this you must go to the main page and select where it says "Register". You must start completing the form to create your account.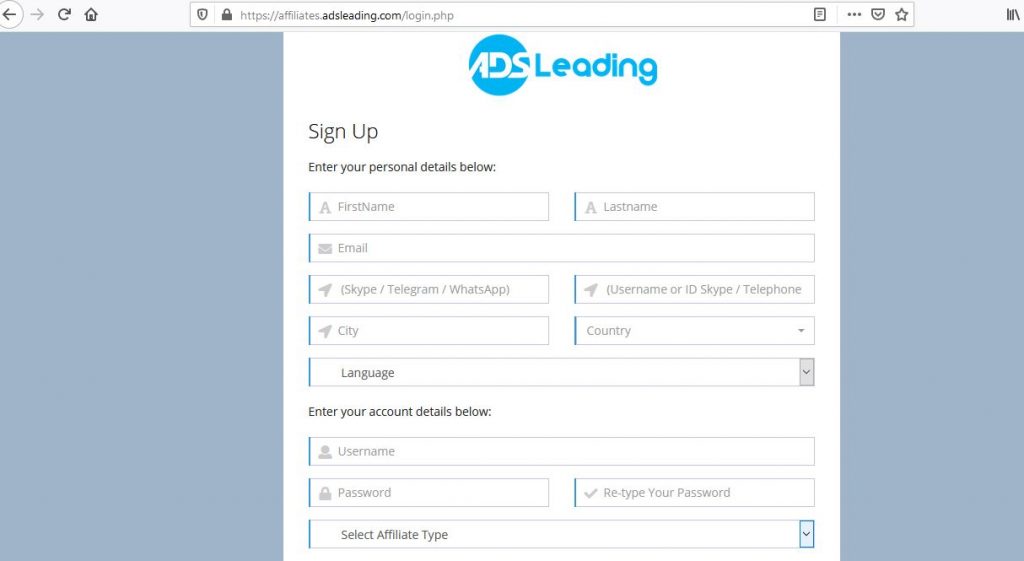 As soon as you submit the form you will receive a welcome message in your email. A link will be provided within the email, you must click on the link to validate your email. We suggest that you check your spam folder in case the message reaches you there. In this way AdsLeading will be able to validate your email, so that you can enter your account.
2. Validate your AdsLeading account
Once you have completed the registration process, the next step is to validate your account. This is very important, because if your account is not validated you will not be able to receive payments. To validate your account it is very simple. Within your account you must select your profile and complete the personal information that appears in the "Personal Info" option. You must complete the sections with missing personal information.
Then, go to the tab "Documents Upload" where you should upload your ID and a photo of you. The supported formats are the following: * .doc, * .docx, * .jpg, * .jpeg, and * .png, and * .pdf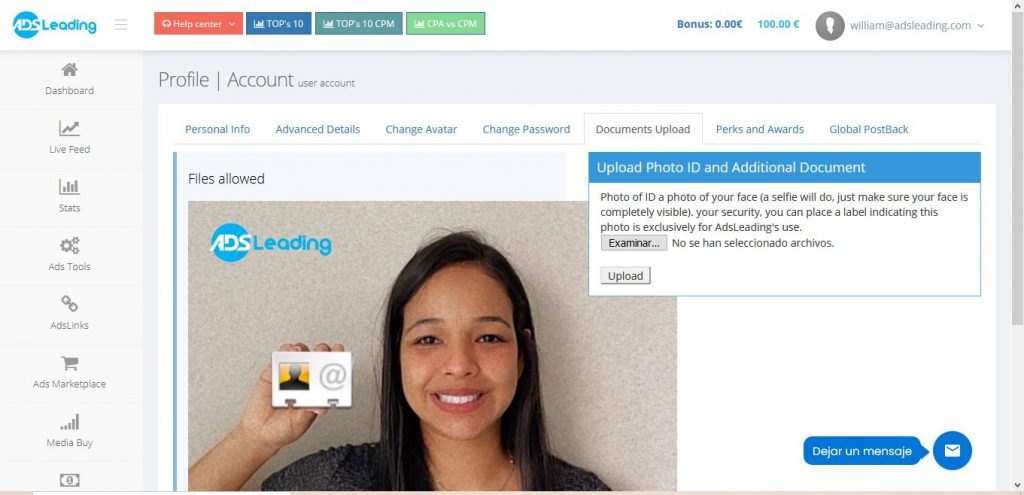 You have to upload a photo ID and additional document (for example, driver's license). The photo ID is a picture of your face (for your safety, you can place a label indicating this photo is exclusively for AdsLeading's use.
As soon as you complete the requested personal information and upload your photo and your ID, you should wait for your account to be validated. This process does not usually take more than 24 hours. Remember that you must have your account validated in order to receive payments. Once you have your offer approved, you can start promoting it.
3. Requesting payments
This is everyone's favorite, the "Request payments" part. It is important to know that, if you have not uploaded your documents to your profile, the payment method will be blocked, as you can see in the following image: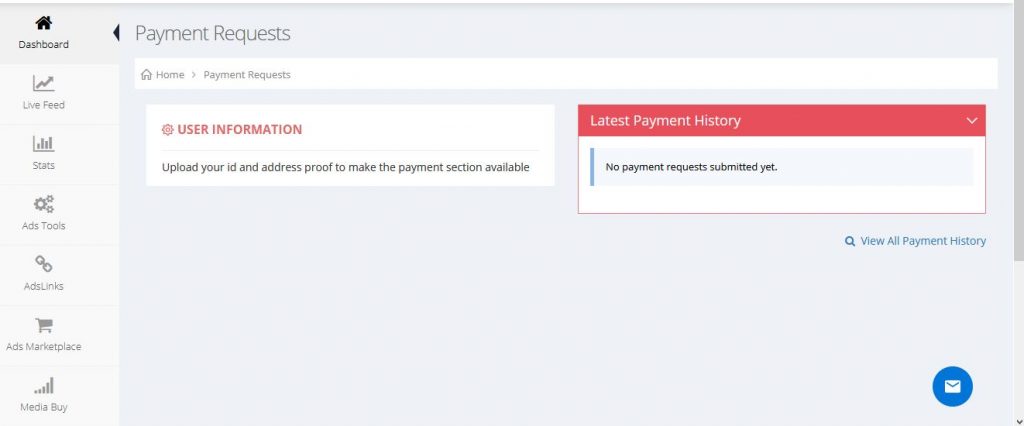 You can request your payments through Paypal, Wire Transfer, Paxum. AdsLeading has also integrated a new platform called CryptoMercury, with which you can receive your payments instantly without having to wait. (Please read the post titled "The new payment service in AdsLeading called CryptoMercury" if you are interested in this service)
To request a payment, go to Payments and select Payment Information, there you must select the desired payment method and complete the requested information. Select your payment method carefully, you can only activate one payment method. If you want to change your payment method please contact support.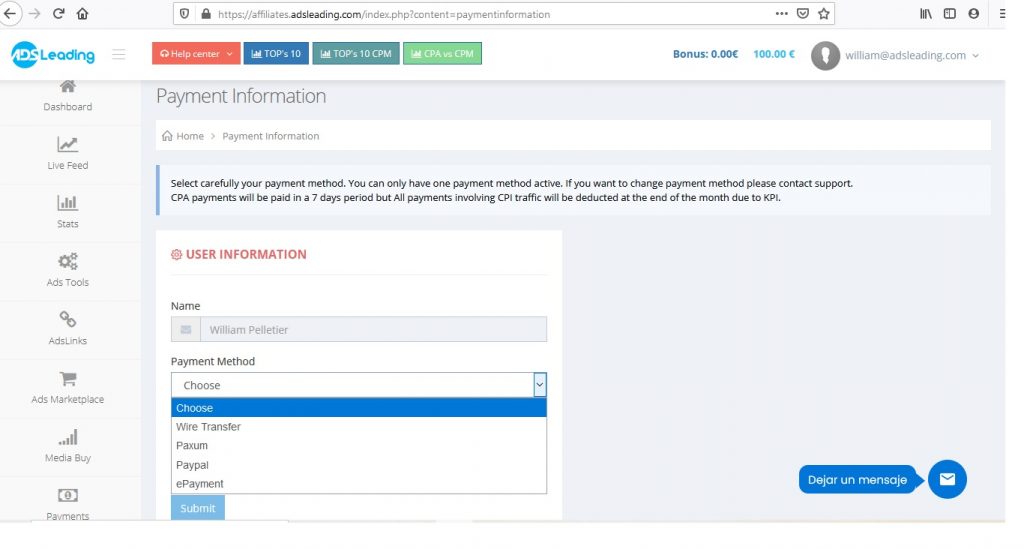 Once you have these details completed, you can proceed to request your payments without any inconvenience. In order to request your payments, select the Payment Request section of your profile and enter the amount you are requesting. Then enter your account password and press the "Submit" button and that's it.
4. Using the Ads Marketplace
Our Marketplace aids publishers in obtaining more advertising income, connecting with top brands and making frictionless direct sales with the AdsLeading Marketplace. Several advertisers visit the Marketplace each month in order to find display and custom ad placements. Our self-serve tool allows marketers to launch campaigns on their own, all you have to do is approve the creative.
Once inside the Marketplace, look for the offer you want to promote and then press the "Apply" button and the following notice will appear "Before you continue, how will you promote this offer? Please include the Source and Method." Here you must indicate the method that you will use to promote the offer you have selected. Remember that it is important that you read the details of the offer (Category, Billing, Countries and applicable rules).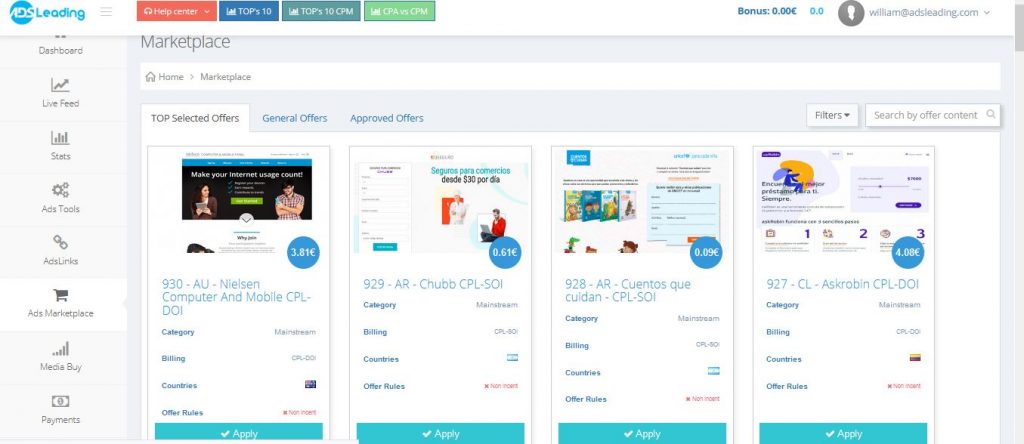 Once you have your offer approved, you can start promoting it.
5. Using the AdsLinks
An AdsLinks is a single affiliate link that leads to various offers. This link is used in affiliate marketing and uses an algorithm to rank offers on performance founded on KPIs such as device, geo, connection type and operating system. The purpose of using Smartlinks is to produce more income by sending each visitor to the offer that has historically best performed and is most likely to result in a conversion.
In AdlsLeading you can select what kind of Smartlink you want, examples include: dating, mainstream and adult.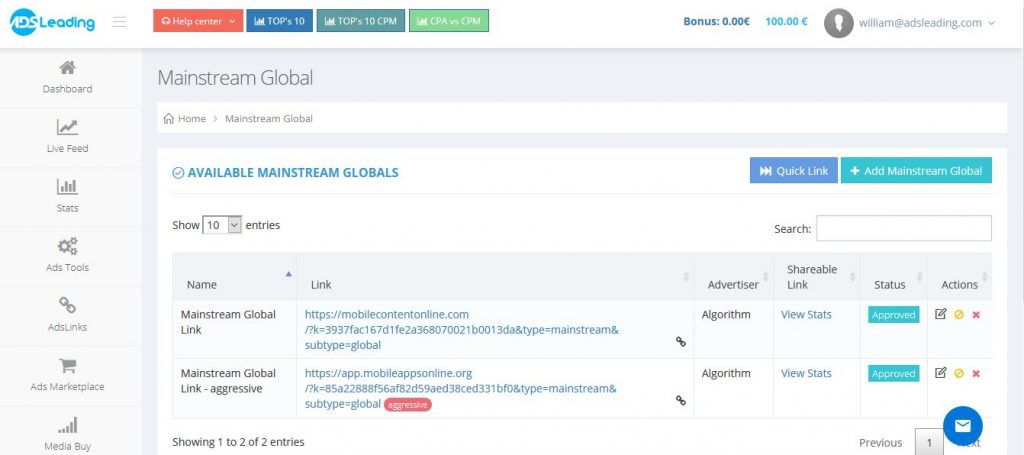 Creating your AdsLinks is a very easy task, just a few clicks are enough. Once you have your AdsLinks created you can start using them immediately.
We hope that these first steps with AdsLeading will be of great help to you, and get you started in the fascinating world of Digital Marketing with us. We are always ready to provide you with excellent service and help you in whatever way we can. For that we have a highly trained staff with great experience in the matter.
We advise you to be aware of our blog as we will be publishing articles highlighting more tools that we have available on our platform. Additionally, we will be publishing various articles related to basic concepts for newbies and experts, because those who do not master the basics make many mistakes in this type of business. It is a mistake of some experts to think that the basics never matter.
So, we are going to receive this new year on the right foot, to improve ourselves more and more in this type of business and you will see that you are going to obtain better results. Always remember that we are here to support you.
Let's grow together!